We already know that patching is a practice of the utmost importance when it comes to the security of businesses. WSUS has been for a long time a great solution for patching Windows machines and apps inside the Microsoft ecosystem and is still being used by a lot of companies. But with the passing of time, the market demands solutions that are more flexible and cover a larger area of needs, from third-party patching to deploying patches on devices running different operating systems.
Today, we will dive into what WSUS is, how it operates, and exactly why your company needs an alternative to this solution.
What Is WSUS?
Short for Windows Server Update Services, WSUS is a Windows Server add-on offered by Microsoft free of charge, to help IT admins deploy the latest Microsoft product updates across enterprise-level systems and networks. With the help of WSUS, you can fully manage the distribution of updates released through Microsoft Updates to the Windows OS and Microsoft-related apps present in your network.
The Role of WSUS
Using a management console, a WSUS server offers capabilities you can use to administer and deliver updates. Other WSUS servers in the organization may get updates from a WSUS server. An upstream server is a WSUS server that serves as a source for updates. In order to get the available update information in a WSUS installation, at least one WSUS server on your network must be able to connect to Microsoft Update. How many more WSUS servers connect directly to Microsoft Update is something that you, as an administrator, may decide based on network security and setup.
WSUS Functionality
The central patch management feature of WSUS is its main strength. However, employing the tool has several disadvantages.
WSUS covers critical updates, definition updates, features packs, and security updates to name a few, but it's limited in the sense that it only covers updates released through Microsoft updates. It also acts as a multi-action support for sysadmins, allowing them to perform sever client-oriented actions such as installing, removing, detecting, and declining updates and vulnerabilities.
The system administrator can gauge the effect a patch or update will have on the selected machine or group by using the detect-only action. When dealing with untried patches and/or upgrades, this functionality is quite helpful.
Another key function of WSUS is that it allows sysadmins to analyse the network environment of a company to determine which machines need to receive updates or patches.
Limitations of WSUS
WSUS is a great free option, but keep in mind that it has some limitations:
WSUS is only capable of running on a Windows Server. Depending on the size of your IT infrastructure, you could need to buy a sizable number of extra Windows Server licenses.
Although Windows Server Update Services may distribute updates for Microsoft products, it has limited compatibility with third-party software programs, and doing so using WSUS might be difficult.
Machines running non-Windows operating systems like Linux or macOS are not supported by WSUS. This implies that in order to handle non-Windows machines in your IT environment, you must rely on extra patch management tools.
Why Consider WSUS Alternatives?
Although many organizations rely on WSUS or SCCM for patching, such products are limited in their use. Some IT professionals even consider WSUS to be hard to configure to bring the best out of it in your organization. And despite being a free solution, by being a Windows Server, configuring your endpoints to work well together with the solution will require a pretty hefty investment in auxiliary equipment and Windows Server licenses.
The product has a reputation for being occasionally buggy, clumsy, and ineffective. Moreover, WSUS offers very basic automation and limited reporting features.
Also adding the fact that such solutions only work with Windows OS and are limited regarding patching third-party apps which are not part of the Microsoft environment. Most modern-day enterprises use apps and OS from multiple parties, so in this case, a more flexible and customizable solution is desirable.
Heimdal® Patch & Asset Management vs. WSUS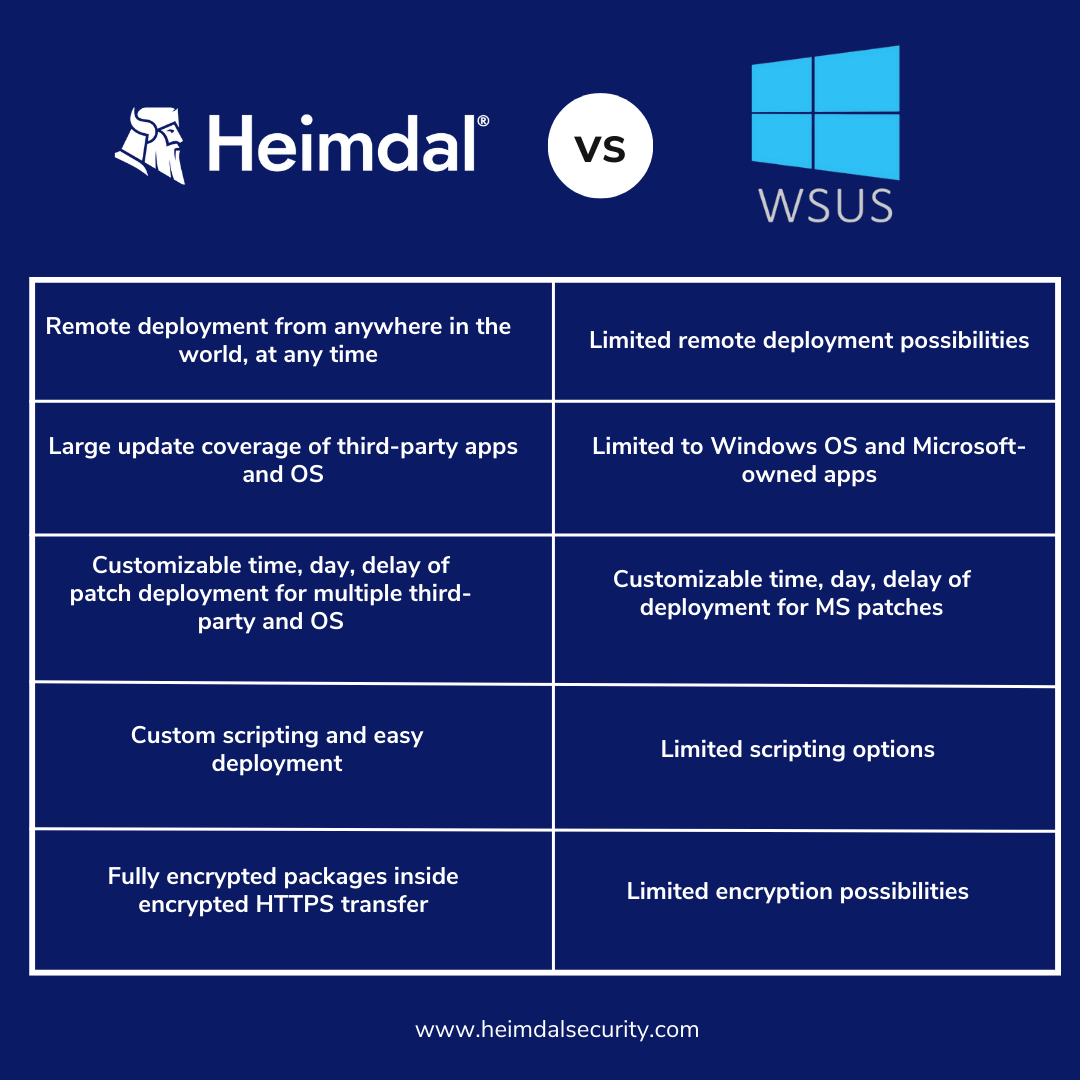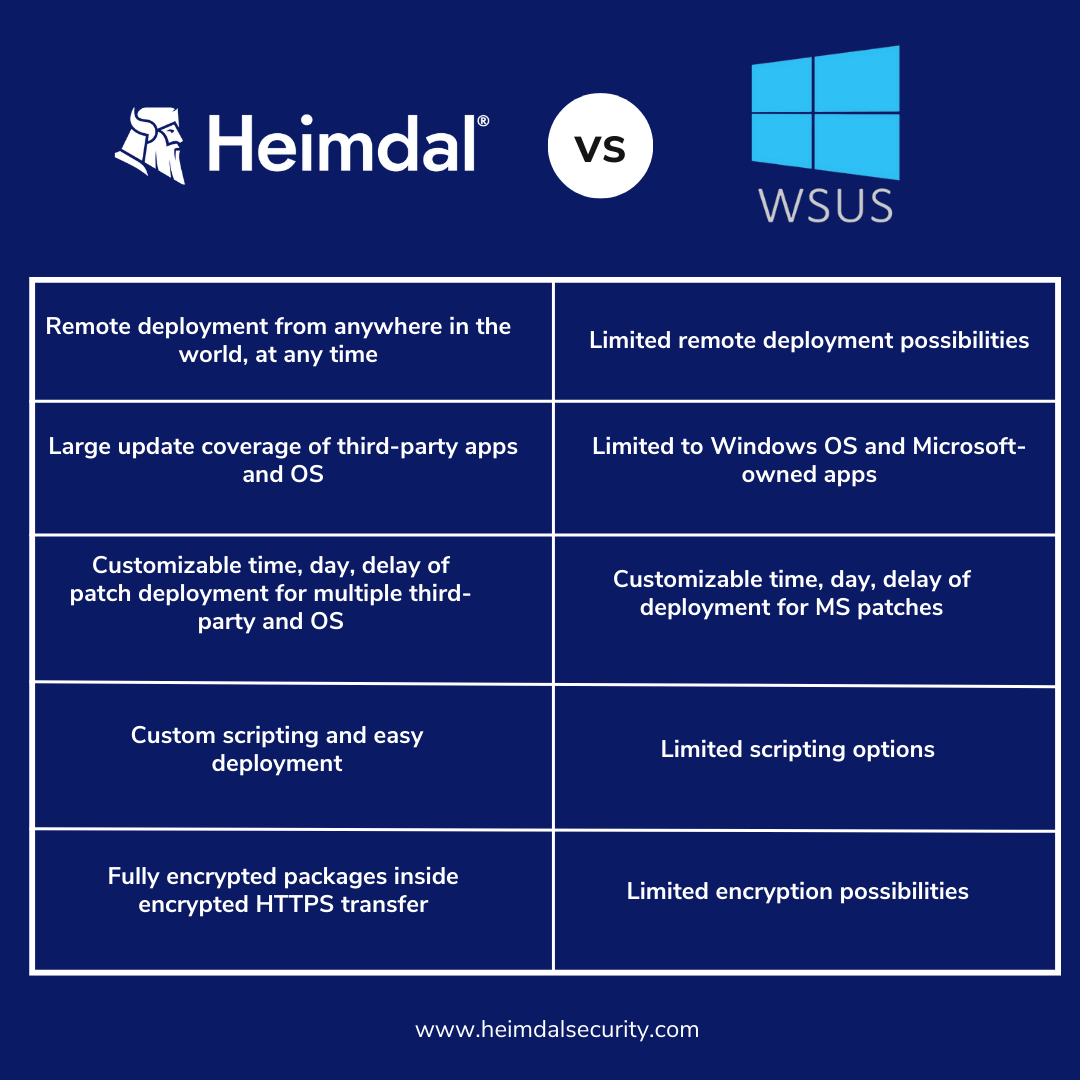 When it comes to comparing WSUS with our own Heimdal® Patch & Asset Management, there are similarities, but there are also nuances of differences in terms of possibilities that the solutions provide.
Firstly, Heimdal®'s solution is fully customizable and allows patch deployment on-the-fly, from anywhere in the world, no matter the time or if the machines to be patched are on or not, while WSUS has limited remote deployment possibilities and is conditioned by the MS limitations.
Heimdal®'s Patch & Asset Management covers a large number of third-party and non-essential OS updates from different app developers, plus, it holds an inventory of over 200 of the most popular software used by companies always updated and ready for installation. On the other hand, WSUS does not have as large of coverage as Heimdal and works best with apps from the Microsoft ecosystem.
Both solutions allow admins to customize the time, day, and delay of patch and updates deployment, the difference is that Heimdal®'s solution also works with multiple third-party and OS, while WSUS works only for MS patches.
When it comes to custom scripts, Patch & Asset Management allows complex scripts to be implemented and easily deployed to machines in the network, while WSUS has limited scripting options and its deployment is more complex.
Updates coming from Heimdal®'s solution are delivered fully repackaged, ad-free, and tested from  Heimdal™ using encrypted packages inside encrypted HTTPS transfer to your endpoints locally, while with WSUS, the encryption possibilities are not as broad.
Automate your patch management routine.
Heimdal® Patch & Asset Management Software
Remotely and automatically install Windows, Linux and 3rd party application updates and manage your software inventory.
Schedule updates at your convenience;
See any software assets in inventory;
Global deployment and LAN P2P;
And much more than we can fit in here…
Try it for FREE today30-day Free Trial. Offer valid only for companies.
Wrapping Up
To conclude this article, we can say that WSUS is still a good option for businesses with a smaller number of machines in their network, and especially useful if all of the devices are using Windows. But for sysadmins, the solution can prove to be quite a burden, as it needs a lot of time and it requires building systems around it. The current environment finds solutions that are easier to manage and overall cover a larger third-party pool and multiple types of operating systems to be more efficient and cost-effective in the end.
If you liked this article, follow us on LinkedIn, Twitter, Facebook, and Youtube, for more cybersecurity news and topics.
If you liked this post, you will enjoy our newsletter.Get cybersecurity updates you\'ll actually want to read directly in your inbox.
---
Source: /tnemeganam-hctap-rof-evitanretla-susw/golb/moc.ytirucesladmieh
THE END