There has been a surge in cyber-attacks against cloud service providers (CSPs) and managed service providers (MSPs). Resecurity recently alerted several data center organizations about a malicious cyber campaign targeting both the organizations and their clients.
Threat actors orchestrated all of these attacks in order to gain unauthorized access to sensitive information belonging to government organizations and businesses by exploiting vulnerabilities in the cybersecurity supply chain.
Customers and Data Impacted
As an essential component of most enterprises' supply chains, data centers are a substantial target for attackers.
A number of large data center customers have been affected by this breach, according to Resecurity's cybersecurity analysts, including the following:
Alibaba Group Holding
Amazon
Goldman Sachs Group
Walmart
The data related to the following has been mainly targeted and stolen from the data centers:
Customer service
Ticket management
Support portals
Remote management services
Datacenter employee
Customer email account credentials
According to CSN, it has come to light that the login credentials for certain data center organizations have been posted on an underground forum called Breached[.]to.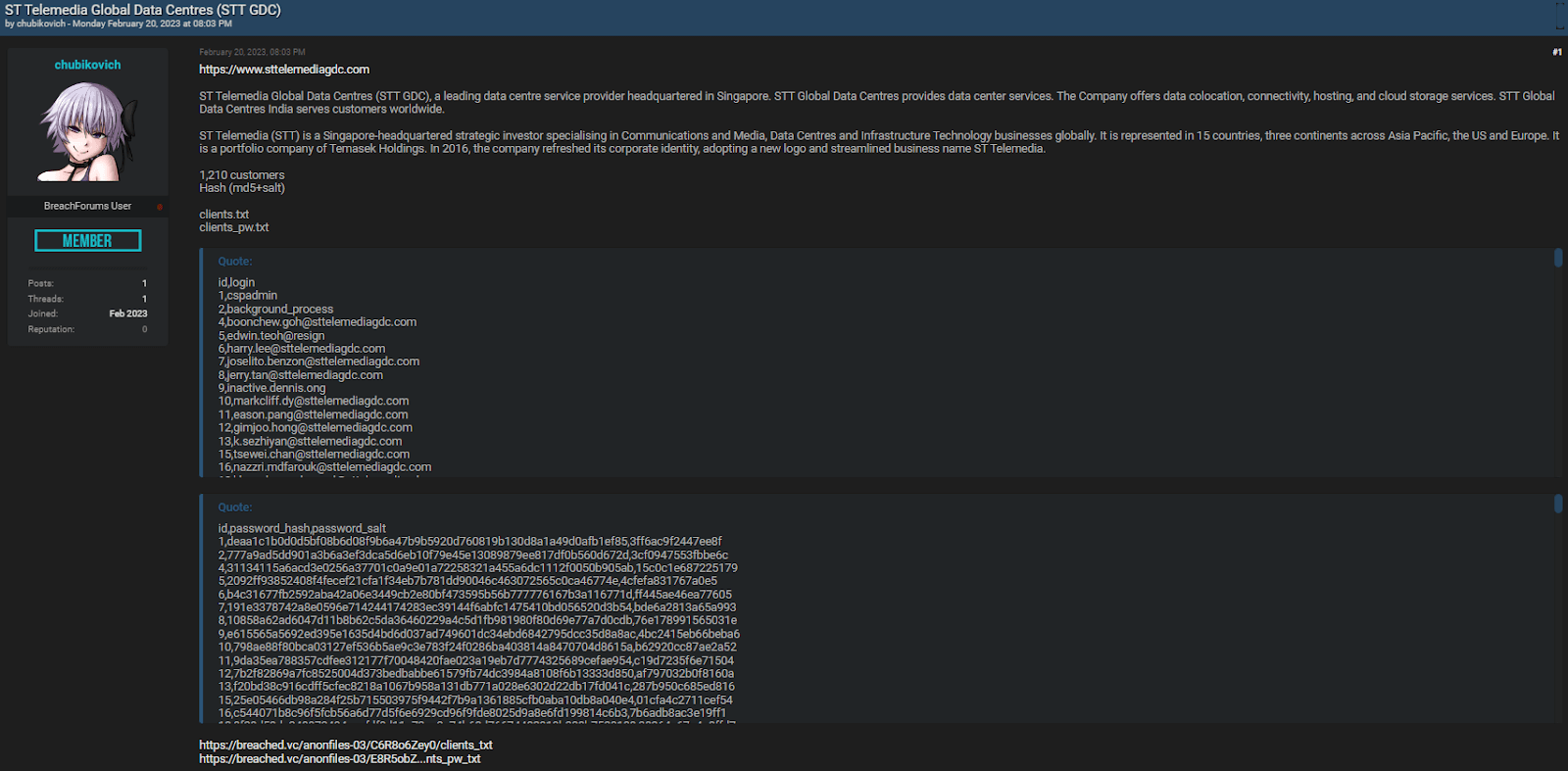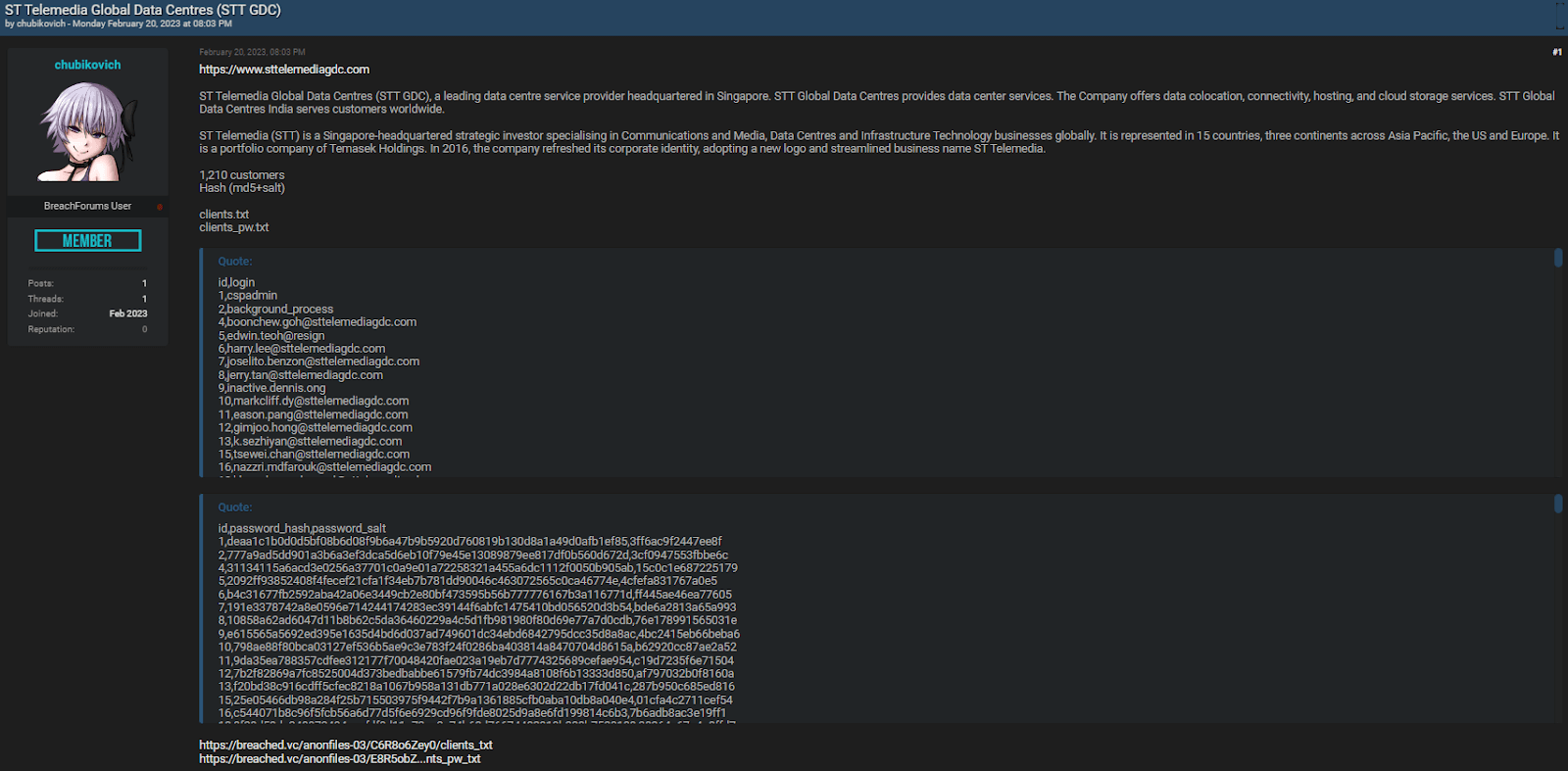 Source
As a result of the significant number of Fortune 500 companies represented in the data sets obtained during the investigation, the information has been shared with US law enforcement agencies.
Further Analysis
The cybersecurity experts at Resecurity have identified various threat actors on the Dark Web, with indications that they may have Asian origins.
The majority of forum sections have Chinese translation, and it is there where we could identify multiple actors originating from China and countries based in South-East Asia.
Source
The actor extracted a list of CCTV cameras used in data centers as a means of monitoring the environment. It was also found that they extracted credential information pertaining areas such as IT staff and customers.
Furthermore, the APT performed active probing of the panels of the customers after they had gathered the credentials of the customers in order to collect information such as:
Data center operations managers for enterprise customers
List of purchased services
Deployed equipment
There are a number of financial institutions from around the world that have been identified in the leaked data sets:
Investment funds
Biomedical research companies
Technology vendors
E-commerce
Online marketplaces
Cloud services
ISPs
CDN providers
While most of the organizations are located in countries as:
The U.S.
The U.K.
Canada
Australia
Switzerland
New Zealand
China
In order to increase their effectiveness, security professionals should step up evaluations and mitigation efforts related to both OT and IT supply chain security. Communication with suppliers is also essential if a cyberattack compromises the data of clients and their accounts.
If you liked this article, follow us on LinkedIn, Twitter, Facebook, and YouTube for more cybersecurity news and topics.
If you liked this post, you will enjoy our newsletter.Get cybersecurity updates you\'ll actually want to read directly in your inbox.
---
Source: /sredivorp-retnec-atad-gnitegrat-slanimircrebyc/golb/moc.ytirucesladmieh
THE END