Scandinavian Airline SAS reported a cyber attack Tuesday evening and advised customers not to use its app, but later stated that the problem had been resolved.
According to media reports, the hackers took down the carrier's website and exposed customer information from its app. In addition, the cyberattack caused a malfunction in the airline's online system, allowing other passengers to see passenger data. 
This information includes contact information, past and upcoming flights, and the last four digits of the credit card number.
Last night SAS, alongside several other companies, were subjected to a cyberattack that led to our website and app being down for a few hours. Furthermore, some passengers' data became visible to other passengers who were active during the ongoing attack.
Source
On Tuesday, the entire website was unavailable. However, the airline, which operates 131 aircraft and serves 168 destinations, claims the risk of this exposure is low because the leaked data is only partial and cannot be easily exploited. It also clarifies that no passport information has been disclosed.
According to TT, customers who attempted to log into the SAS app were logged into the wrong accounts and had access to the personal information of others. According to the Norwegian newspaper Verdens Gang, this also happened to Norwegian customers.
However, if the exposed data was accessed during the attack, full names and contact information are sufficient for threat actors and scammers to conduct targeted attacks as well as phishing attacks.
We always cooperate with the national CAA (Civil Aviation Agency), police, and security police when security matters are concerned – irrespective of the issue in question.
Source
Hacktivist Group 'Anonymous Sudan' Accepts Responsibility 
The threat actors claim they attacked SAS in response to a January 21, 2023, event in front of the Turkish embassy in Stockholm, Sweden, where a far-right nationalist group burned a copy of the Holy Quran to protest Turkey's objections to Sweden's NATO membership bid.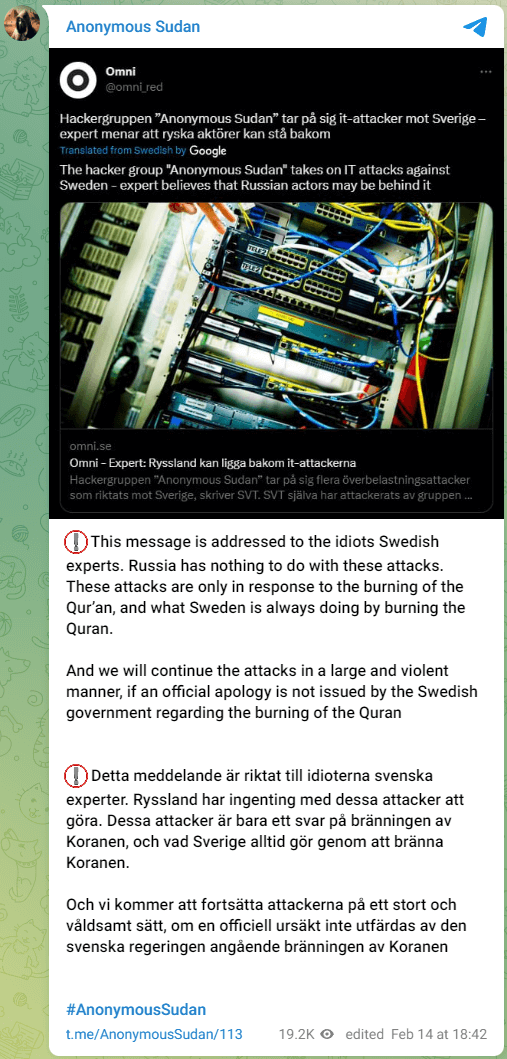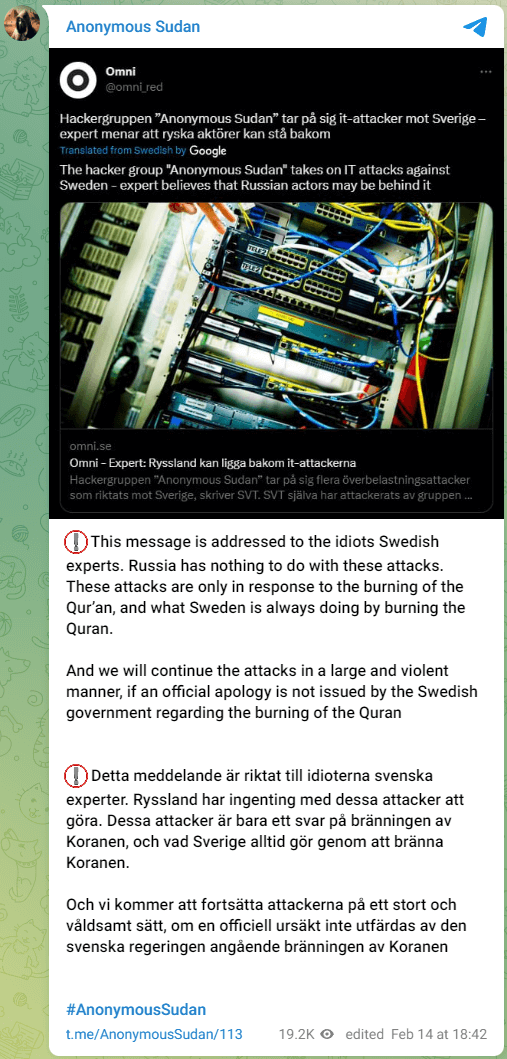 Source
This act has been condemned by Muslims worldwide, including in Sudan. In addition, SAS, Sweden's flag carrier (as well as Denmark and Norway), became a target for hacktivists seeking to express their displeasure.
The same group of actors attacked SVT earlier this week, causing a brief outage of Sweden's national public television broadcaster.
According to IT security experts questioned by SVT, Russian hackers are likely conducting the attacks or assisting the Sudanese group with firepower and know-how.
If you liked this article, follow us on LinkedIn, Twitter, Facebook and YouTube for more cybersecurity news and topics.  
If you liked this post, you will enjoy our newsletter.Get cybersecurity updates you\'ll actually want to read directly in your inbox.
---
Source: /kcattarebyc-retfa-hcaerb-atad-rojam-reffus-senilria-naivanidnacs/golb/moc.ytirucesladmieh
THE END